It's been almost a decade since Google's Optimize was first released, and the software has seen countless changes in that time.
From new features to integrations with other platforms, the tool has grown into an expansive testing platform for modern web-based products.
However, it seems it will come to an end because as of September 2023 Google will be discontinuing Optimize – leaving marketers wondering what tools they should use next to help drive conversions and engagement.
Luckily there are plenty of options out there, so today we're going dive into some of the best ab testing tools you can use once Optimize is no longer available.
So, let's explore some great ways you can continue optimizing your website or product after September 2023!
What is A/B testing?
AB testing (also called split testing or bucket testing) has become an essential tool in the world of digital marketing.
This methodology offers businesses the opportunity to compare different versions of their website or app to determine which one performs better.
By randomly showing two or more variations of a page to users and analyzing the statistical data collected, businesses can make informed decisions about which version to present to their audience.
So, A/B testing is a method of comparing two different versions of a webpage, email, or advertisement to see which one performs better in terms of a specific goal.
With AB testing, there's no guesswork involved. Instead, companies can rely on data to determine which version of their website or app is most effective in meeting their conversion goals.
Overall, AB testing allows businesses to optimize their digital presence and maximize their ROI.
How does AB testing work?
AB testing works by creating two versions of the same strategy, where one is a variation of
the other.
By randomly showing each version to different site visitors, you learn which one generates the most engagements or sales.
From testing entirely new designs to just changing a single feature, AB testing can help you improve your digital presence and make data-driven decisions.
Additionally, AB testing can be applied to:
Ad Copy
Visuals
Appliances
Audiences
Demographics
Landing Pages
Ad Copy
AB testing can be used to test the effectiveness of different ad copy to determine which one truly maximizes clicks or conversions.
Visuals
By employing A/B testing, one can analyze and compare the impact of various visual elements like images and videos on promotional content. In essence, this strategy allows businesses to gauge which version is more alluring and captivating for their target audience.
Appliances
Utilizing AB testing techniques, product development teams can evaluate various versions of an appliance or device to identify which one achieves optimal user satisfaction and efficiency.
This process allows for a streamlined and data-driven approach to improving products and ensuring the best possible experience for consumers.
Audiences
By utilizing A/B testing, businesses can conduct an experiment to uncover which marketing messages or offers are most compelling to different target audiences.
This process ultimately leads to valuable insights on how to tailor marketing campaigns to resonate better with each segment.
Demographics
Determine which version of marketing strategies or campaigns is more effective in terms of engagement or conversions by analyzing results from various demographic groups.
Landing Pages
With AB testing, businesses can experiment with various landing page layouts, copy, and offers to determine which version generates higher conversion rates or sign-ups.
This data-driven approach allows for effective optimization and tailoring of the landing page to best meet the target audience's needs.
Why should you consider AB testing?
Through this technique, businesses can pinpoint what resonates best with their audience and fine-tune their messaging accordingly.
As we mentioned, AB testing can provide valuable insights and help you make data-driven decisions. Here are some reasons why you should consider AB testing:
Increase conversion rates (etc. increasing the number of sign-ups, purchases, or downloads)
Improve user experience
Better ROI from existing traffic
Reduce bounce rates
Increase revenue
Reduce risk (of negative impact)
By taking advantage of this powerful statistical analysis technique, businesses can stay ahead of the curve and continuously improve their digital marketing strategies to achieve long-term success.
Top 7 best AB testing tools for 2023
Now, that we know that Google Optimize discontinues in September 2023, it is time to prepare.
No matter what your business size and setup, these seven AB testing tools promise to make 2023 a game-changing year:
AB Tasty
Optimizely
VWO
Freshmarketer
Omniconvert
Crazy Egg
Adobe Target
1. AB Tasty
AB Tasty takes first place on our list of the best ab testing tools for 2023.
This user-friendly platform provides a range of powerful optimization tools, including AB testing, personalization, and user insights.
With AB Tasty, creating and testing different versions of your site or app is easy to determine what works best for your audience.
Whether you're a seasoned digital marketer or just getting started, AB Tasty can help take your online presence to the next level.
Pricing
The price for this ab testing tool is available on request.
2. Optimizely
Optimizely is a tool that allows businesses to test and refine their websites and mobile apps to maximize their impact.
The platform offers a range of features, including AB testing, heat mapping, and personalization, all of which enable insights into user behavior and preferences.
With its intuitive interface and advanced analytics, Optimizely is a valuable asset for any business looking to improve its digital presence and achieve meaningful growth.
Pricing
As for the previous AB testing tool, you can find out the price on request.
3. VWO
VWO is a comprehensive platform that enables businesses to test and optimize their websites with minimal effort.
With VWO, users can create AB tests, multivariate tests, and heatmaps to identify areas of improvement and optimize their website's performance.
A user-friendly interface and streamlined functionalities make it easy for users to test various website elements such as call-to-actions, headlines, and images.
Pricing
This ab testing tool has a 30-day free trial, then plans for web-based testing range from $99/month.
4. Freshmarketer
With a wide array of features and capabilities, Freshmarketer allows marketers to take control of their campaigns and make data-driven decisions.
From lead generation to email marketing, website optimization to customer engagement, Freshmarketer is a one-stop shop for all your marketing needs.
Easy to use and intuitive, this tool combines advanced analytics and automation to help businesses achieve their marketing goals with ease.
Pricing
The price for ab testing features starts at $19/month.
5. Omniconvert
This powerful platform combines customer behavior tracking, AB testing, surveys, and segmentation to help businesses drive conversions and increase customer loyalty.
The interface is straightforward, and the capabilities are extensive, making it a valuable tool for any business looking to improve its customer experience.
From small businesses to large enterprises, the Omniconvert tool helps businesses achieve better results with efficiency and ease.
Pricing
The price for this AB testing tool starts ​​at $167/month.
6. Crazy Egg
With its suite of features, including heatmaps, scroll maps, and user recordings, Crazy Egg provides a detailed picture of how users are interacting with a website.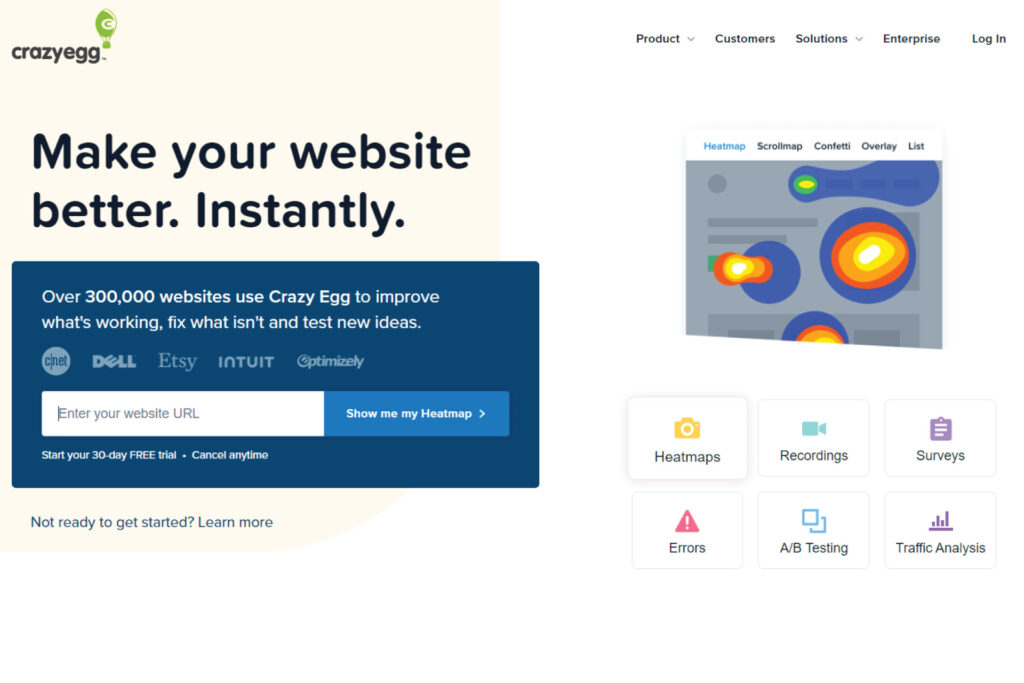 By identifying areas of a page that users are drawn to, where they lose interest, and where they encounter obstacles, website owners can make data-driven decisions about how to improve their website and make it more effective.
Pricing
Crazy Egg ab testing tool has a 30-day free trial, then the basic plan starts at $29/month.
7. Adobe Target
Adobe Target is another ab testing tool that provides businesses to create targeted campaigns based on users' behavior, preferences, and demographics.
The tool's advanced algorithms analyze data and provide insights that help in making data-driven decisions.
Overall, Adobe Target is a great tool for businesses looking to gain a competitive edge in today's digital landscape.
Pricing
The price for this AB testing tool is available on request.
Conclusion
We have listed a few of the best AB testing tools available on the market, but there are many more out there you could use if you feel that they would be better suited to your project.
Choose the perfect tool for your business, implement it as soon as possible, and most importantly, continue to iterate on it until you get concrete results from knowledgeable customers.
On the other hand, if you still need help in the field of digital marketing, W3 Lab digital agency can be the ideal solution for you.
Our team of experienced professionals will provide you with fully personalized digital services according to your business goals.
If you want to achieve your business goals and be ahead of the competition, feel free to
If you want to achieve your business goals and be ahead of the competition
Thanks for reading!