Google My Business is a free service that allows you to manage your online presence and grow your business. Using GMB, you can set up what your business looks like on Google.
It is quick and easy to set up and it includes a variety of things:
Photos of your business
A phone number that your customers can use to reach you
Your work hours, so people know when you are open for business
The official website of your business, for those who want to learn more
A share button, so people can share about you on their social media
The popularity of your business over time
How does GMB work?
When someone googles your business or your product, your GMB listing will show up (on the top of the page on mobile and on the right-hand side on desktop), where your customers can see all needed information without a single click.
Should they decide to contact you, they can do so directly via the phone number provided on GMB. Or if they want to visit you and aren't sure where you are exactly located, they can open your location using Google Maps. And not only this, but they can also leave reviews and read other people's experiences with your brand. Pretty handy, right?
If you've just started a business and made a website for it, the first big step is search engine optimization or SEO. It presents a set of strategies used to put you on the front page of Google. And Google My Business is a great and free way of achieving this.
If you want to know more about GMB, how to set it up, verify, and optimize it, this is the article for you.
How to set up a GMB listing?
First, you will have to be logged in with a Google account and go to google.com/business
Press Start now and type in the name of your business
Add a location that will appear on Google Maps
Add service areas
Select the region your business is based in
Choose the category your business fits in the best (such as restaurant, bakery, hardware store, etc.)
Add your business phone number and website
Choose how you will verify your GMB listing
How to optimize your GMB account?
This part includes adding as much info and details as possible, so your business gets displayed when googled and so customers can find you more easily.
As previously mentioned, the fields you can fill in include a website, address, phone, opening hours, and images. Additionally, a short video of your business can be added as well.
GMB listing also lets you include keywords related to your business, which is a huge part of SEO. Include important keywords and relevant phrases so new customers can find you more easily when they google you.
GMB photos
The photos include a cover photo (the first and biggest image that appears on GMB) and a profile photo, which is the one that appears when you post something (it is usually the logo of your business).
Usually, these photos include scenes of interiors or exteriors of businesses from different directions, shots of products and employees while they're working.
How to edit your GMB listing?
If you make a mistake or simply wish to update current information, you can do so by clicking on your GMB, then going to Info and then clicking the pencil next to the information you want to edit. Don't forget to press Apply when you're done!
GMB reviews
Every GMB listing includes an option for customers to leave a review of your business or product. This is one of the most helpful parts of GMB because positive reviews will let new customers know that your business provides quality service. Keep in mind that by responding to reviews you encourage people to leave their own, so don't forget to do that.
But responding only to positive comments isn't all there is. You should also respond to the negative ones, but only in a professional and kind manner. No matter how mad or even wrong they are, never display anger because that's highly unprofessional.
GMB advantages
Sure, it's easy to set up but are the actual benefits of it? Let's take a look:
Firstly, it's free. You don't have to pay anything to set it up and it's guaranteed to appear when someone looks up your business.
Secondly, it contains a bunch of useful information. It helps people find you, because part of a listing is a location. Similarly, it helps people reach you as well, so they can contact you directly through the listing. This way, you are sparing your customers a ton of trouble, which everyone appreciates.
Google My Business tips
1. Respond to all reviews
How many reviews do you have on your Google My Business listing? Ten, fifty, five hundred? It is time to respond to all of them, and I mean all.
How much time will you need? Five hours at most. Do it little by little in three days and you won't get too tired of it.
Why should you do this? Well, there are a few reasons.
Reason number one is that people appreciate when someone responds to their review. Imagine if there was someone giving a business five stars and how unexpected it would be if the business responded to their review. They would be thrilled.
The second reason is that by responding to reviews, you are showing your potential clients that you appreciate every person who took the time to say something about your business. And that means people who have left 1 star, 3 stars, and 5 stars. All of your customers are equally important to you and you want to show that to the potential ones.
The third reason is SEO. Have you ever looked up a keyword, such as 'rooftop restaurant', and wondered why someone was number one on the search page and someone was number 10? That's because Google's algorithm considers the first result more relevant than the tenth one. SEO has a lot of impact on this.
When responding to reviews, don't just write 'thank you'. Try to respond in at least 2 sentences, while keeping the keyword in them.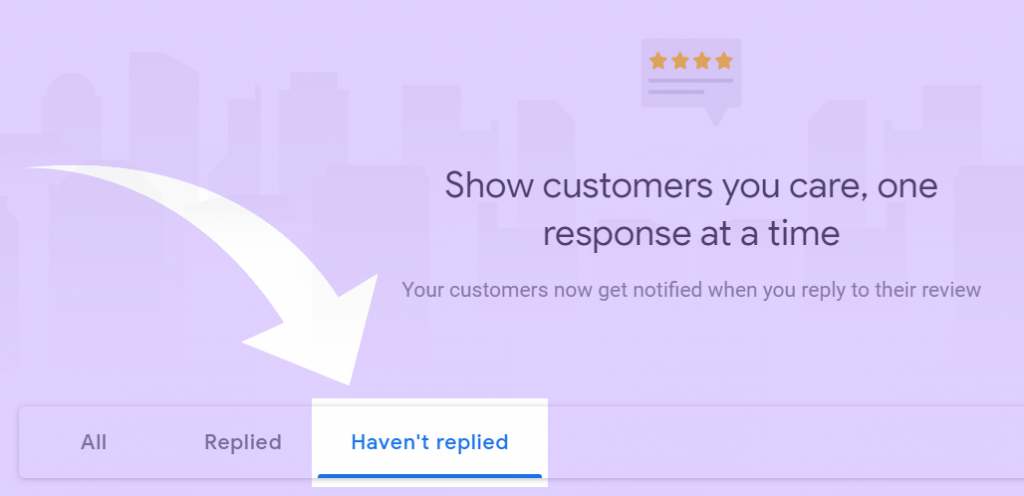 Now, you might be wondering: 'But what are my keywords?'.
Take a pen and paper and write all possible keywords that your potential customers might search for.
If you own a rooftop restaurant, those would be:
Rooftop restaurant
Rooftop *name of your city*
Restaurant *part of the city it's located in*
Restaurant with a view
Beautiful view restaurant
And so on. You get the point.
Here's an example. Your customer has given you 5 stars and they've written that they're 'amazed by the view and the staff'.
You could respond: 'Thank you very much, *their name*. I'm glad that you like this type of rooftop restaurant. We hope you visit us again!'.
After you respond to all reviews and include all the necessary keywords that your potential customers might be searching for, expect a better keyword ranking in about 1-3 months.
The fourth reason is that if you respond to everything, Google's algorithm will notice that you're active and that you're working on your profile. This will give you a few bonus points that can make a huge difference for your business.
This was the first step of how to improve your Google My Business listing in 2020, let's move onto the next one.
2. Turn on messaging
Did you turn messaging on your GMB account? If you didn't, do it now.
What does messaging do for you?
Here's a situation. Michael wants to go to a restaurant with his wife tonight, but he's in Dallas for the first time and doesn't know which one of the 3 most popular restaurants to go to. All three have great reviews, good photos, and it's obvious that they work hard on their listings.
What will he do?
He's going to click the 'Message' option, that only one of those restaurants has, the person who is in charge of the account will respond to him, they will talk for a little while, and Michael will decide to go to that restaurant. Why? Because the interaction he had with the team of that restaurant convinced him that that very restaurant was the best choice for him and his wife.
I think that the businesses that turn on this option have a much bigger advantage over those who don't. It's of huge benefit when there are people active and ready to respond to the messages of the potential clients.
So, my second advice would be to start talking to people on your Google My Business listing in 2020.
3. Post often (it's 2020!)
The keyword related 'signals' that Google My Business sends to Google now have importance of 30%!
We mentioned that you should use keywords when responding to reviews, and you need to do the same for posts.
There are a few types of posts that you can make on Google to promote your business:
What's New
Event
Offer
Product
Let me explain how you can use these post types.
What's New
Is there something that you would like to inform your customers about?
When it comes to restaurants, it could be that someone famous visited your business, so you can post a picture you took with them and write what the celebrity had to say about your restaurant, like: 'I love this restaurant! I recommend the squid, it was top notch!'
Event
Is there going to be an acoustic 80s ballads music event in your restaurant this Friday? Tell your customers that it's happening.
If there are people who don't have Friday night plans, this post could convince to come to your restaurant and have a good time. This is great because you're getting a free ad and getting new customers.
Offer
Do you have a special offer involving a specific type of fish going on during the weekend? Post about it on Google My Business and watch people calling to reserve their tables.
If your business has any special offers – use GMB to tell people about it.
Product
You can use this post type to tell people how amazing it is a product that your business offers, and after posting it, you can expect the sales to increase.
This feature is especially great if your business offers something unique.
Those are the 4 types of posts on Google My Business.
Google My Business Posts allow you to choose which CTA you want to use in the end:
Book
Order Online
Buy
Learn More
Sign up
Get Offer
Are you already getting ideas about everything you can do with a Google My Business account? This service is great for both getting new customers and keeping the previous ones.
What are the characteristics of a good Google My Business post?
A good post should contain an image that attracts attention, a description that will increase interest, and a CTA which matches the type of post.
4. Be careful which photo you upload
In my opinion, 10 photos taken by a professional are worth more than 200 photos taken by an amateur.
If you want your profile to stand out from the rest, I warmly suggest you hire a photographer who will take professional photos of your business which will present it in the best light possible.
Here's an example. Which one would you prefer to eat:
And here's one more example:
You get the gist – hire a photographer, you won't regret it.
Conclusion
Thank you for reading! I hope this article will help you improve your Google My Business listing. If you're interested in more topics like this, visit our blog page.
See you next time!