In this blog post, we will talk about keyword research, why it's important and how you can do it.
If you follow this ultimate keyword research guide, you'll be able to do one on your own.
What is keyword research?
Keyword research is the process of discovering relevant words and phrases that people use in search engines, like Google, Yahoo, Bing, and YouTube.
But, first of all, it's important to know what keywords are.
What are the keywords?
Keywords are terms that users type into their search engines. There are two kinds of keywords:
short-tailed keywords and
long-tailed keywords.
The difference between them is that short-tailed keywords are generic terms, such as lamp, clothes, food, hats, etc.
On the other hand, long-tailed keywords are far more specific. These are most often words that describe in detail a concept or subject.
Examples: desk lamp, woolen winter clothes, festive Christmas food, hats with wide brims and so on.
It only makes sense that there are far more search results for short-tailed keywords and therefore, it is significantly harder to rank for them on top of search pages.
So, when starting off with SEO, long-tailed keywords are the first on the list.
Why do we need keyword research?
'I made a website where I'm selling desk lamps. Why do I need keyword research if I know exactly what I'm going to be writing about?' – That's a good question, but it's not that simple.
The main goal of keyword research is to find the words and phrases that people type into their search engines. You won't be able to know this if you don't do your keyword research.
Another important part is competitiveness, or the ability to rank first for those keywords. You won't be able to achieve this by writing about random topics.
That's why it's important that we have answers to three questions:
What are people searching for?
In which format are they searching for the keywords?
How many people are searching for certain keywords?
Keyword research is the first step in SEO and it affects finding topics to write about, on-page SEO, as well as promotion. Another crucial thing is learning how people think, their likes, dislikes, wants, pretty much everything related to your target audience.
How to do keyword research?
There are different ways of going on about this, but we will explain my steps of finding keywords. We are sure there are many other ways, some maybe even better, but so far, this method proved to be very effective in practice.
What we usually start with are autocomplete functions of Google and YouTube Suggest.
Google Suggest and YouTube Suggest
When you type a term into Google before you press enter you will be a number of suggestions. These are Google's suggestions and we get them from the search engine itself, which makes them valid data.
Here's an example: We typed in 'search engine optimization' into Google and got the following results: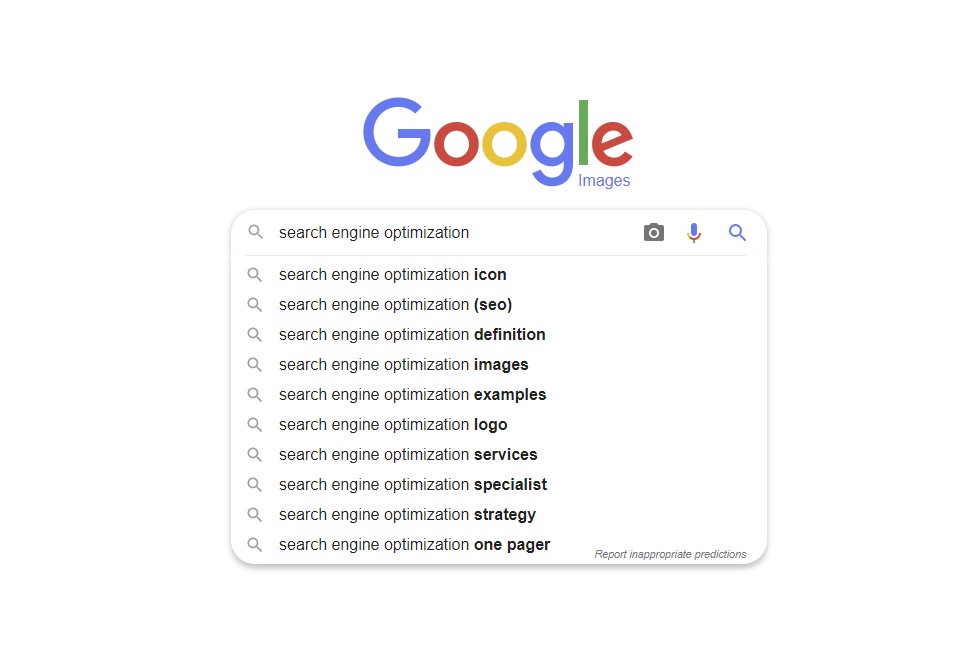 So, what people are looking up are definitions, examples, services and strategies related to SEO. These are very useful and are definitely worth marking down.
Youtube keyword research quick tip:
If you make YouTube videos and want to optimize them, then you will need to look at the YouTube search engine suggestions. We get them the same way:
The difference between the two searches is obvious: this one contains the word tutorial, which is something YouTube is known for.
Here's a tip: There's a tool called Soovle, which can give you suggestions of a huge number of search engines at once, such as Wikipedia, answers.com, Bing, and so on.
Google related keywords
At the bottom of the search page, Google displays a number of searches related to the phrase that is getting looked up:
This gives us the knowledge of new keywords, like jobs, courses and techniques, so add them to your keyword list.
If you need any more keywords, you can click some of these results, and click the next set of results. This will provide you with more than enough keywords.
Singular and plural keywords
It depends on the query whether you will focus on the singular or plural keywords. Google is adapting to the search intent of your query, therefore it can guess right what you're searching.
For example, if you are looking for a book, your results differ from those that you get when you look for books.
In the first case, it is like you were searching for a definition, while in the second, Google thinks that you wanted to buy a book.
Be aware that the content on your page matches the query and the results that Google gives on the query.
Try using a keyword only once
If you use your focus keyword several times for multiple articles and pages, there is a chance that your rankings suffer from keyword cannibalization.
This might happen because Google has difficulties in telling apart the very similar content. As a result, it can rank very similar posts or pages lower.
Are you realizing that you used the same or very similar keywords for different posts and pages?
In that case, you should audit your content and do some changes, such as merging, redirecting, or deleting them.
Also, you shouldn't spam your targeted keyword in a single post or page because that's keyword stuffing. Google considers keyword stuffing as an unethical and ineffective SEO strategy.
Wikipedia and keywords
This may seem like an odd choice, but Wikipedia is a sea of keywords.
If you type in a short-tailed keyword, such as tea, in the Wikipedia search engine, you'll get a ton of keywords related to this term.
Number 6 gives you long-tailed keywords and related keywords that you can use for writing your blog post. If you look through the article, you'll find many more.
Reddit keyword research
Reddit is a great way of finding new topics to write about and for finding quality content as well. You can find a ton of questions to which you can give answers to in your blog posts.
You can see that the SEO subreddit is very popular, with over 120.000 members. If you click it, you'll see a number of interesting posts:
The first two posts are something you can write about: you can make a guide on the first post and an interesting article about the second one.
Quora keyword research
Quora also represents a very popular platform that deals with every kind of question. And here, every frequently asked question can be regarded as a long-tail keyword.
To find the most popular questions for a specific niche you have to find the topic page on Quora. Then you type in your main keyword and select the wanted result.
When you get to the topic page, in the right panel, you'll see a list of related topics that can help you to explore the niche more.
It's impossible to rank the questions by popularity on Quora, but you can select "All Questions" on the three dots.
A list of all the questions that are related to the topic will show up. You can go through them and find the ones with the highest number of followers/answers.
That will guide you to the popular topics within your niche. There is no need to focus only on the followed questions.
Now you are wondering, what is a marketing funnel?
It is a question and a keyword at the same time, and it represents a notable example of a query. Hundreds of queries like these can be found, you just need to browse through Quora and discover them.
How to find keywords through forums
Forums are quite useful when it comes to finding all sorts of information related to a topic, but also questions and keyword research.
If you type 'keyword + forum' into Google, it will display a ton of useful stuff. You'll get different forums related to the topic of interest that contain plenty of questions, answers, as well as keywords.
Here's the results for my 'search engine optimization + forum' search:
If you click any of the links, you'll get new keywords related to the term.
Forums are a great way of getting to know your target audience, what they like and dislike, and everything related to your topic.
This way, you're not only getting keywords, but also quality content, which, in the end, is the most important thing of all.
Amazon
Amazon offers A9 – its own search engine.
Just like Google and YouTube, it gathers data about popular search queries and provides automatic suggestions.
Many free tools that will help you to search them automatically, or you can search for them manually.
The validity of the given suggestions depends on the product conversion rate and buying behavior.
The keywords can be essentially useful for the content with transactional intent.
If you are an affiliate marketer or an e-commerce store owner, don't miss Amazon.
Feedly
One more way to discover a vast number of topic ideas is to set up an RSS feed to get updates on new content from the best blogs from your industry.
It won't take more than 5 minutes.
All you have to do is to create a free account at Feedly, make a new feed, and follow the industry leaders and competitors.
The first move would be typing your topic and following the best blog within the niche.
Each day, you'll find a display of all the new content published on the blogs that you are following.
Every title can be an individual source to discover ideas and keywords you can pay attention to through your own website.
Plenty of other places can be a source of keyword inspiration. You just have to search for places that users from your niche collect online. That can be through Facebook groups, Twitter threads, content curation platforms, etc.
You can find keyword ideas everywhere, but they usually aren't created equal.
So, you have to analyze them to find the ones that are worth targeting.
SEMrush
SEMrush is another stellar alternative that makes it easy to check up the top seed keywords and their search that is already ranked by your competitors in their Competitive Research section. This is the highlight of what SEMrush's keyword toolkit has to offer
As an alternative, the Keyword Magic Tool is an incredible way to guide a fast keyword search to check search volume along with all other metrics you want to discover.
Favorite tool for keyword research – Ubersuggest
Sure, there probably are better keyword research tools, but this one was the first tool for many SEO experts. It is also getting better day by day and introducing new useful options.
With the help of Ubersuggest, you can find a huge number of keywords related to a term or field. It enables you to learn the volume of a certain search (they're not 100% accurate) and will give you a huge number of related keywords.
The best thing about it is that you can export all the keywords you get in the form of a CSV spreadsheet.
Keep in mind that this tool is FREE to use.
How to use Ubersuggest
Ubersuggest is used by typing in the keyword in the middle, choosing the language and pressing enter. What follows is the display of a ton of results about what people are looking up on Google that is related to your keyword.
On the left, there is a small menu where we can pick Keyword Ideas, and it shows us the related words for the 'search engine optimization' keyword. For every keyword, we get a PD, SD, Volume and CPC.
PD stands for paid difficulty, or a scale from 1 to 100 that tells you how hard it is to rank for that keyword in Google Ads. SD stands for SEO difficulty, Volume tells you the monthly amount of searches, and CPC stands for cost-per-click, for Google Ads as well.
On the right are best ranked links for a keyword, which also gives us useful data.
There are also other useful tabs: Related, which contains related keywords, Questions, Prepositions and Comparisons.
You can export all of this in a CSV format.
Ubersuggest can also be used for domain analysis and will display keywords used on a certain domain.
Google Trends for KW research
This is another one of Google's tools that is free and can help with keyword research.
Just like in Ubersuggest, you'll need to select the country of your target audience. Then, in the field in the middle type in the keyword, you're interested in.
We will then get the popularity of the keyword, and if we scroll down, we will see related searches:
Google Keyword Planner
Google Keyword Planner is another free tool of Google's and is used by a number of people.
It will give you keywords, their monthly search volume, competitiveness level and cost-per-click of a campaign.
However, it was made for Google Ads campaigns, so its use is limited.
Despite this, it was a great use, which is keyword research related to a certain domain.
Keyword Sheeter for generating numerous keywords
Keyword Sheeter is a great way of finding a huge number of keywords. The way it works is, after you type in a keyword, it starts generating searches. You can let it run and after half an hour, you'll have over 20.000 different related searches.
You can export all the keywords in a CSV format and the tool is free to use. The only bad thing about it is that it doesn't show the volume or competitiveness of a keyword.
Answer The Public – for finding questions
This website lets you learn about the questions that people ask and contain your keyword. Here's the Answer The Public result for 'search engine optimization':
You get a ton of questions that you can use for your keyword research, as well as topics to write about.
Ahrefs – premium tool for keyword research
We saved Ahrefs for last, which is the most popular backlinking tool among SEO experts. It has a Keyword Explorer, which can help in your keyword research.
You can watch the following video to see how to use this feature:
Keyword Explorer will help you find thousands of keywords and a ton of data related to them. Some information about keywords can only be gotten through this tool, which is probably why you have to pay for this tool.
How to analyze keywords
When you have an abundance of keyword ideas, your task is to pick those that will be the most valuable to you. To do that, you have to consider three things: popularity, difficulty, and relevance of the keyword.
It is important to know the following:
Google won't show your page for the keyword if the keyword has a high search volume and low difficulty but isn't relevant to your content.
You'll get no traffic if the difficulty is low and the keyword is relevant but there is no search volume.
It will be hard to outrank your competitors if the search volume and relevance are fine, but the difficulty is too high.
Popularity
This aspect deals with the search volume, how many people search for the given phrase. The calculation is usually done as a monthly average based on the last 12 months.
Google data and Clickstream data are the two main sources used in keyword research tools.
Google data search volume data from the Google Keyword Planner database, while Clickstream data search volume data based on the behavior of internet users, from browser extensions, plugins, etc.
There are different keyword tools that use various sources and various methods of data post-processing. This results in possible differences in search volume values.
Both sources have their advantages and disadvantages, and none of them are completely reliable. It is important not to depend completely on search volumes, just take them as a clue.
If you are interested in the popularity of a keyword from a longer perspective, you should check a long-term interest trend of the keyword.
Google Trends is an amazing tool that will help you to do so. When you type the keyword or the topic, the tool will show you the interest over time on a scale from 1 to 100.
The long-term trend will show you if the search volume is increasing or decreasing through time and it will help you to notice the seasonality of the keyword.
Seasonal keywords are keywords related to a certain time of the year, for example, holidays, summer, winter, annual events, etc. Make sure to check all seasonal keywords and all relevant content marketing trends when you start to create your content.
As you can see from the Google Trends graph above that shows the last 5 years, the song by Mariah Carey "All I want for Christmas is You" has a huge interest over the Christmas holidays. This is how seasonal keywords behave in the search.
It is also very important to take into consideration the click-through rate (CTR).
The CTR depends on the position of your website and on the rich snippets, which include: Google Ads. Answered boxes, map packs, featured snippets, and many others.
When Google ads are present, the CTR results are much lower.
When you want to estimate the visits you can get from a keyword, keep in mind that there are tools that will help you to calculate the impact of rich snippets on the results.
Keyword difficulty
When you want to estimate how difficult it is to rank for a specific keyword, you can use a metric – Keyword difficulty.
It will be harder to rank for the keyword with your website when the keyword difficulty is higher.
The difficulty metrics used in keyword tools take into account the authority of the websites ranking in the 1st SERP.
There is a high chance of ranking for the keyword when there are many low-authority websites in the first SERP. The authority is calculated on the ground of two things:
Number of backlinks
Quality of backlinks
How many pages link to the given website will show the number of backlinks, and the authority and relevance of the linking page will show the quality of backlinks.
Some of the most popular authority metrics are Domain Authority and Page Authority by Moz, and Citation Flow and Trust Flow by Majestic.
Their task is to capture the authority of the page into one number on a scale from 1 to 100.
It is possible to estimate how hard it will be to rank for the keyword when you analyze the authority of all the websites ranking for a keyword in the 1st SERP.
If you want to work properly with the keyword difficulty metric, you have to bear in mind several things:
The metric should only be a guideline, not an absolute value, so don't consider the keyword difficulty just as the clue. You can outrank websites with higher authority if your content is better and more relevant.
Avoid making comparisons between the numbers of different tools, because each tool uses different data for the calculation of the keyword difficulty. Instead, do the comparisons of the difficulty metrics between the keywords.
It is also very important to take into consideration your SEO skills, your website's authority, and the relevance of your content.
If you find a competitor with similar website authority, you can for example compare DA/PA or CF/TF.
When you look at the keywords, you can create better content and outrank them.
Relevance
The essential part of every keyword research should be a SERP analysis.
By looking at the authority of the ranking websites, you can better evaluate the keyword difficulty.
It helps you to establish if the keyword is relevant to your content when you search intent behind the keyword.
When you want to discover the intent behind the keyword, the best way is to Google it and see what ranks in the first SERP.
There are 4 basic search intent categories:
Navigational – the user is looking for a specific website/brand
Informational – the user is looking for general information
Transactional – the user would like to buy something online
Commercial – the user researching before purchasing
There are cases when the keyword is due to a topic relevant to your page, but not relevant for the search intent.
For example, when you find a keyword that has a solid search volume, it seems pretty easy to rank for. Nonetheless, when you look at the SERP, you will see that your keyword is not appropriate for your content.
Why is this happening? The search intent doesn't match. Now, there are two options:
You have to find a focus keyword with an appropriate intent
You have to create a new section of content to match the search intent
The idea is to match the intent behind the query with your content type.
Note: Write informative posts and provide value for free, only focusing on transactional and commercial keywords isn't enough.
Maybe you won't get instant customers, but they will consider you as an authority in the area they want to buy in the future.
How to use keywords
What happens after you choose the keywords with the best metrics?
First, think of keywords as topics.
Organize the articles by topics divided into topic clusters or content hubs.
In the content hub model are two basic types of content:
Pillar content – it targets broader keywords, covering the topic
Cluster content – it targets more specific keywords, covering the subtopics
Of course, the pillar content and the cluster content are interlinked.
The topic clusters empower the semantics which means that it helps to better evaluate the topical relevance of the posts.
Thanks to the model, you can make lists out of your keywords, where the 1st list = the 1st content hub.
When you treat the keywords as separate content topics, you start to think about the natural relationships between them.
This will help you understand that keyword research is not only about search volumes and difficulties.
More importantly, it will show you the way people search and think on the internet.
That way, you will make content that covers the topic in great detail and responds to customers' needs.
Choose the focus keyword.
One focus keyword that represents the topic should be enough.
Avoid overusing the keyword.
Use the focus keyword in the title, Meta description, in the first paragraph, at least in one subheading, and several times through the text, naturally, without meaningless repetition.
It is familiar that keyword stuffing is an obsolete technique.
Do not try to reach the ideal number of keywords, because it doesn't exist.
Do not try to stuff the exact match keyword into the post to meet a certain keyword density (there is no ideal number and never was).
Some SEO plugins suggest optimal keyword density. Take them only as a clue, and be focused on the more important thing – the user experience.
Also, take into consideration the length of the keyword.
LSI keywords
LSI stands for latent semantic indexing and it is a natural-language processing method that helps you to discover which keywords are semantically related.
Be careful with the use of synonyms or semantically related phrases, it can be as damaging as keyword stuffing. Use them just to fit into the text naturally.
By Ahrefs, the average #1 ranking page will also rank for about 1000 other relevant keywords.
After a while, you should use the Search Console technique to find long-tail keywords you started to rank for. You should also think about new ways to adjust your content to upgrade the positions.
Exaggerating and artificial use of LSI keywords can be misleading and it can damage the readability.
Google algorithm is improving at understanding the content and realizing what the page is about. There is no need to use every single keyword.
What follows keyword research?
We finished our keyword research and got a long list, which includes short-tailed keywords, long-tailed keywords, questions, and related keywords. So, what's next?
After we gather enough keywords related to a topic, what follows is the writing.
We take one either short or long-tailed keyword which we think we have enough information about and come up with a blog post or page title.
Recommendation: Don't come up with topics this way and keep in mind your SEO strategy and all relevant On-page SEO factors.
Then, using long-tailed keywords, questions, and related keywords, start writing quality content.
The aim is to answer as many questions as possible and to mention and talk about as many keywords as you can.
What's most important is that your post really does have some value.
It is crucial that, after reading your text, the reader really learns something. Don't overstuff your text with keywords and make sure that your text is as quality as it can be.
We hope you learned something from this blog post and we also hope that after reading this article, you will be able to conduct your keyword research on your own.
Thank you for reading!