Nowadays, a good online presence means everything in the world of business. Businesses have started hiring social media managers and creating social media departments, who manage the official accounts and post content in an attempt to gain as many followers who will hopefully become customers.
But content isn't all there is to getting engagement, likes, and comments. The time of posting has a huge significance, as you want to post when your followers are active. If they're sleeping or being at work, they won't see your posts and they will get buried under dozens of others.
To make sure you're posting your content at the best possible times, there are various social media tools that can help you, such as Hootsuite, Later, Sprout Social, Buffer and Agorapulse.
Let's see what each of them entails.
1. Hootsuite
Hootsuite was created in 2008 by Ryan Holmes, when he felt the need for a tool that would help him manage multiple social media accounts. After realizing that no such service existed, he decided to create his own with the help of his digital agency, Invoke Media.
The service was a huge hit and it still is. In 2017, it had more than 15 million users across the world and it is also the winner of many awards. Let's see why.
Hootsuite features
Firstly, it enables you to connect with over 35 popular social networks, which is a significant amount. It also offers a 30-day free trial, which I think is really worth mentioning, because you don't have to pay for this service if you end up not liking it.
Its main and maybe most important feature when it comes to this article is auto scheduling, which enables you to schedule posts that this social media tool will post at all times of the day, keeping your page alive. Additionally, there is a feature where the service will choose the best time of posting, when your followers are most active (you can edit this setting).
Its features also include bulk scheduling, which lets you schedule and upload hundreds of posts. The content calendar lets you see all the posts that you scheduled and enables you to move them around, placing them at a different date and time.
Some other features of this social media tool include:
easy finding of new content to share
a content library, where you can search for your posts and edit their tags
access to content that is in clouds, such as OneDrive and Dropbox
analytics, an important feature that lets you see your performance on different social media accounts
creating of reports of your social media content
searching by keyword or location
permission levels and team management, a great feature if there's multiple people managing social media accounts
2. Later
What started as the first Instagram schedules in 2014 is today a social media tool that allows you to manage your Instagram, Twitter, Facebook and Pinterest accounts.
Unlike all the other services on this list, Later is completely free to use and doesn't require any sorts of payment and credit card information. There are upgrades and different plans if you want to use more advanced features, though.
Let's see what its service list entails.
Later features
Let's start off with the most important features: scheduling and posting.
Later lets you schedule and auto-publish image and video posts on Instagram. There's also the quick schedule option and the schedule first comment on Instagram. Additionally, this social media tool also lets you create Instagram stories and schedule them, as well.
Later also has a calendar option, where you can drag and drop posts on your Instagram profile, in order to organize them and create an aesthetically pleasing profile.
Other great features of this free service include:
access to the Google Drive and Dropbox clouds
a library of all your content
content organization
analytics tools that help you learn more about your post engagement and followers
shoppable links on Instagram posts
finding and sharing of user-generated content
and dozens of others
3. Sprout Social
Founded in 2010, this social media tool is today among the most popular social media management tools.
Sprout Social is used by more than 20.000 brands and organizations and offers a 30-day free trial with no credit card information required.
Sprout Social features
This social media tool is extremely powerful when it comes to managing your accounts and content. What separates it from the other tools on the list is that the tool comes with training and education materials on how to post efficiently and effectively.
It also has a calendar and a weekly plan of your posts, and the scheduling feature will show you the most optimal posting times, when your followers are most active and likely to see them. This is done through Sprout Social's algorithms, which analyze your followers' behavior and determine the best posting times.
This social media tool also enables you to find other great content from which you can draw inspiration, it lets you group and categorize messages based on their content, and it has a library where your assets can be stored.
Here's some other useful Sprout Social features:
analytics for each social media platform, including Facebook, Twitter, Instagram, LinkedIn, Pinterest
comparison to your competitors, so you can see their follower engagement
different types of reports, including competitors reports and paid performance reports (how your ad campaigns are doing)
bot builder feature for all your automated Chatbot needs
and many many others
4. Buffer
The first version of Buffer was launched in 2010 and had only Twitter management. Today, you can use it to manage your Twitter, Facebook, Instagram, Instagram Stories, Pinterest and LinkedIn.
Buffer features
Buffer enables you to schedule your content, make drafts and get a view of them using a calendar, all with the help from the rest of your team. There are also features that let you tag and assign content and messages to different people, as well as saved replies, which are text snippets that you can send to frequently asked questions.
Buffer offers different types of reports, including overview reports, team reports and engagement reports, as well as analytics and audience demographics.
5. Agorapulse
Agorapulse was launched in 2011 and was founded by two friends,  Benoit Hédiard and Emeric Ernoult. It initially had management of Facebook and Twitter, but today, it lets you manage LinkedIn, Instagram, and YouTube, as well.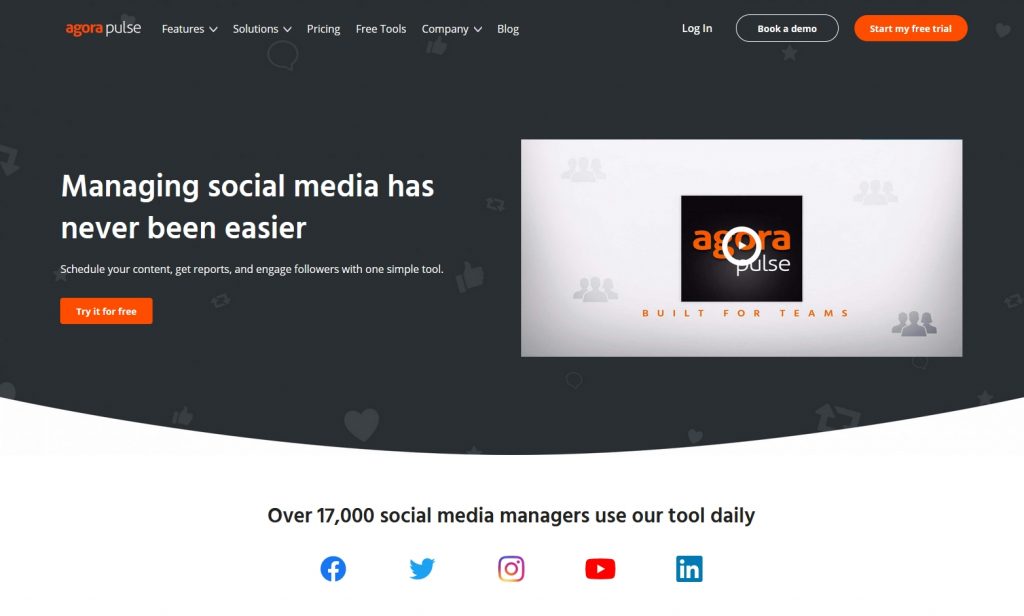 Let's look at the features of this social media tool.
Agorapulse features
Starting off with the most important feature that you're here for, Agorapulse lets you schedule posts, queue them and categorize them. Additionally, it also has a bulk upload feature.
The queue feature is especially useful if you want to share some of your best content again and show it to your new followers. There are also queue categories that allow you to categorize your content, as well as permissions, so you can control which members of your team can post.
This social media tool also has a content calendar, which gives you a better view of your scheduled content.
Other useful Agorapulse features include:
social media message management
instant info of your followers
inbox tools
powerful social media analytics features with reports
brand-related search results that let you see what people are saying about your brand
content organization
and many others
Wrapping up
Having social media is essential to the success of businesses nowadays. They're where businesses can interact with their followers and customers, respond to their questions and build their brands.
To stay on top of your social media posting game, consider using a social media tool that will let you manage your accounts and learn about the best time for posting, so the majority of your followers can see your posts the minute they're posted.
Thank you for reading!