There are all sorts of websites for different purposes.
They can be shops for eCommerce brands, with pages and pages of products and their descriptions.
They can be little archives with articles and useful information, available for people to read and inform themselves at all times.
Sometimes brands even create whole websites for a specific product, in order to promote it how they want and separate it from the rest of their products and services.
Despite many purposes that websites can have, they come in two shapes – single page websites and multi-page websites. If you're building your own website or are planning to hire someone to make it for you, choosing between these two can be difficult.
So, we decided to write this article and provide you with some information to help you make the right choice.
Let's begin.
What is a single-page website?
As the name suggests, single-page websites consist of only one page. Have you ever entered a website and were confused by the lack of navigation, only to realize that all the information was on the homepage? This is exactly how single-page websites work.
If it sounds simple, it's because it is. This approach is very minimalist and you won't find it often, because most websites we visit have a ton of information and different pages they want to show us.
If you come across a single-page website, it will usually be the websites of an artist that features their portfolios, or it might be about a certain event, which doesn't require a lot of information, and therefore, pages.
The good sides of a single-page website
Because of its aforementioned simplicity, a single-page website is clean and comprehensible. If you're trying to tell a story with your website, it will flow easily on a single page website, because the flow won't be interrupted by the user having to click different pages.
This is why they're good for portfolios – the visitor can keep scrolling through the artist's creations uninterrupted, just like they would do in a gallery by just walking from painting to painting.
Another benefit of a single-page website is that it is simple, which makes it cheaper than a multi-page website. And since a single-page website is simpler than a multi-page website, it will be faster to build. By not having to code and come up with multiple pages, web developers can create single page websites much faster and more easily.
Additionally, a smaller amount of coding also means less potential bugs, which helps save time further and makes the process of building a website much easier.
Another benefit of a single-page website is the fact that it is perfect for mobile. People spend most of their mobile browsing sessions scrolling, which is the main feature of single page websites. Plus, they are easier to make responsive than multi-page websites.
The bad sides of a single-page website
The simplicity a single-page website can possess comes with a cost – limited content and information. This is why you won't find them as often on the internet.
Companies that sell a variety of products and have big eCommerce websites simply cannot have single page websites. They need pages that will tell people more about them, like who they are and what their mission is, and pages dedicated to every product, so the visitor can learn more about them and their benefits and uses.
The same goes for websites of NGOs, schools, and universities, educational websites, companies that offer different services, and so on. All of them need to provide a ton of information to their visitors, which makes their websites unsuitable for single pages.
Another bad thing about a single-page website is that it is much harder to do search engine optimization. If you're not familiar with search engine optimization, or SEO, it presents a number of techniques that help websites get a better ranking on search engine pages.
One of those techniques involves keyword optimization, which revolves around websites using the relevant keywords that their business is all about.
Basically, the more keywords and the better they're used – the better ranking on search engine pages. And if you decide to go for a single page website, you will have much less space where you can include your keywords.
Now that we've looked at the good and the bad that a single-page website can have, let's look at some great examples of such websites.
Examples of good single-page websites
Here's a website of a digital designer and art director:
The website is very artistic and unique. On a single page, the digital designer told us all about them, using bold and large fonts to tell us about their experience, where they're working right now, and on which social media we can find them.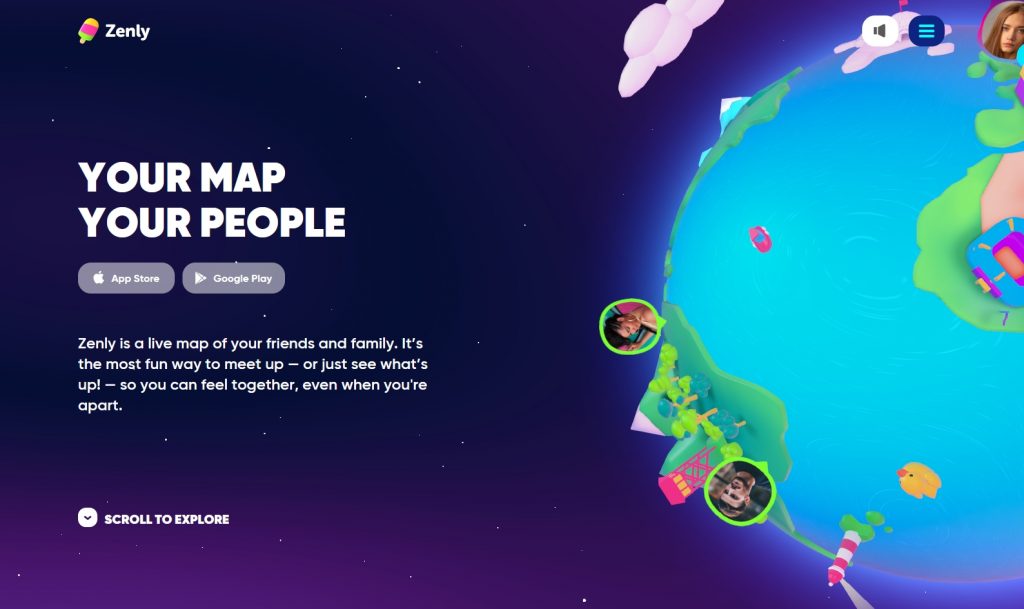 This single-page website is a great and unique example. You don't scroll down the website – instead, as you scroll, the contents of the website will transition and animations will happen. Both the animations and the graphics are super pretty, adding a unique twist to a single page website.
Remember how we mentioned that single page websites are great for portfolios? Here's such an example.
The aim of this website is to tell the story of Käthe Kollwitz and her work. The website is simple, yet has a number of features that make it more unique. On this amazing single-page website, you will find smooth transitions of art, text, and colors.
This single-page website might be one of the most memorable websites I've ever seen. When you open the website, you will immediately notice a bubble that will get bigger and bigger as you scroll down, forcing you to burst it in order to continue scrolling.
The website includes two links at the bottom that won't take you to other pages – both of them are contained to the single page of this website.
Now that we've seen the good and the bad about single page websites and some great examples, it is time to move on to multi-page websites.
What is a multi-page website?
Multi-page websites consist of many different pages and subpages. Because of this, they make up the vast majority of websites. The fact they are so flexible and are suited for many different purposes makes them equally appealing to people, brands, and companies.
You will find them everywhere – do you want to buy something online? The shop will have a multi-page website. Do you want to check your bank account? Your bank will have one, as well. If you're looking to read the news or inform yourself on a topic, the website you visit will undoubtedly be a multi-page website.
It is clear that they are popular and widely used, so let's take a look at the reasons why.
The good sides of a multi-page website
Multi-page websites are highly versatile – they are suited for any type of business and purpose. The fact they allow for multiple pages is their most important characteristic.
With a multi-page website, you'll be able to have a homepage, where all the general information about your business will be, then a special page for your shop, a page that contains information about your business in more detail, and a page where through which people can contact you.
Multiple pages also mean lots of content and information, allowing for search engine optimization. Even better if you have a blog page, as well. That way, you'll be able to write articles related to your area of expertise and use keywords in them, too.
Search engines love websites that use keywords correctly, which will help you get a better ranking in their search pages.
Every multi-page website has navigation, that is visible and easy to follow. It's true that single page websites have a good flow because of their one page, but navigation shows the visitor the contents of your site right off the bat.
So, during the 5 seconds of them visiting your website, they can immediately see the pages that your website contains.
A multi-page website often comes with a search bar, as well, which enables for even better user experience on your website. Search bars are especially useful if you have an e-shop or post articles on your website, so people can find what they're looking for more easily.
The bad sides of a multi page website
When it comes to design, they don't lack in any way. But there are a few technical issues that can arise from having a multi-page website, especially if you're building one for the first time.
Firstly, it is more difficult to update and manage a multi-page website. If you're making your own website, or have purchased a theme with no developer support, taking care of your multi-page website can be a challenge. Search engine algorithms change from time to time, which can result in bugs in your website's code.
Another bad thing about multi-page websites is that sometimes the navigation can be confusing to the visitors. If you're hiring someone to make a website for you, make sure to look at their portfolio and see some other websites that they've built.
On the other hand, if you're making your own multi-page website, make sure that there isn't an abundance of navigation links and a lot of submenu links.
Multi page websites are also harder to make responsive, because there isn't a code that can simply adapt them for mobile devices. Because of this, the mobile version for them needs to be built from scratch (unless, of course, you buy a theme that is responsive).
Multi page websites can also have a problem of really bad loading times, which can result in a high bounce rate. If you're buying a theme, make sure to run it through a speed test first.
Examples of good multi page websites
Here's some examples of great multi-page websites:
Here's a stunning multi-page website of a company that produces golf clubs. The website is well optimized, and despite the fact it features a number of high-quality images, it is fast to load and performs perfectly. The navigation on top has a simple design, is easy to find, and doesn't have any drop-down menus, which makes it even simpler.
This modeling agency decided to go for a simple and minimalist multi-page website, with the navigation in its usual place. I chose this example because of the fact they have a video playing on the homepage. When websites do this, the video can end up being low quality or slowing down the whole page, but this multi-page website is so well-built that the video doesn't hinder the speed nor performance.
This digital agency has one of the most unique homepages I've ever seen. When you open their website, you aren't greeted by an image background and navigation on top. Instead, the top of the homepage is split into three of their main services, that, as you hover over them, have short videos playing.
This furniture building company has a multi-page website that looks as good as their work. The website is minimalist, with a unique place for the navigation – middle left side of the page. Once you click it, you will see the following:
The reason they went for this navigation style might be to place the focus of the visitor on the amazing images of their work. Or maybe they just wanted to be different. Nonetheless, it still looks great.
Finishing up
Both single-page and multi-page websites have their uses and good and bad sides.
Single-page websites are great for portfolios and websites that aim for artsy aesthetics, but they greatly limit the amount of content that can be on them.
Multi-page websites, on the other hand, are highly versatile, but there is a number of problems that can arise when building them and optimizing them for mobile.
In the end, it comes down to the type of business that you run and how much information you need to get your message through.
Hopefully, this article helps you make the choice and thank you for reading!